A group of children ranging from 9 – 11 years old are launching their own pop-up restaurant during their summer break

The restaurant is spearheaded by 11 year old, Talulla who was inspired to cook by her Great Grandmother whose cooking skills saved her life during the Holocaust

100% of the money raised will be donated to UNICEF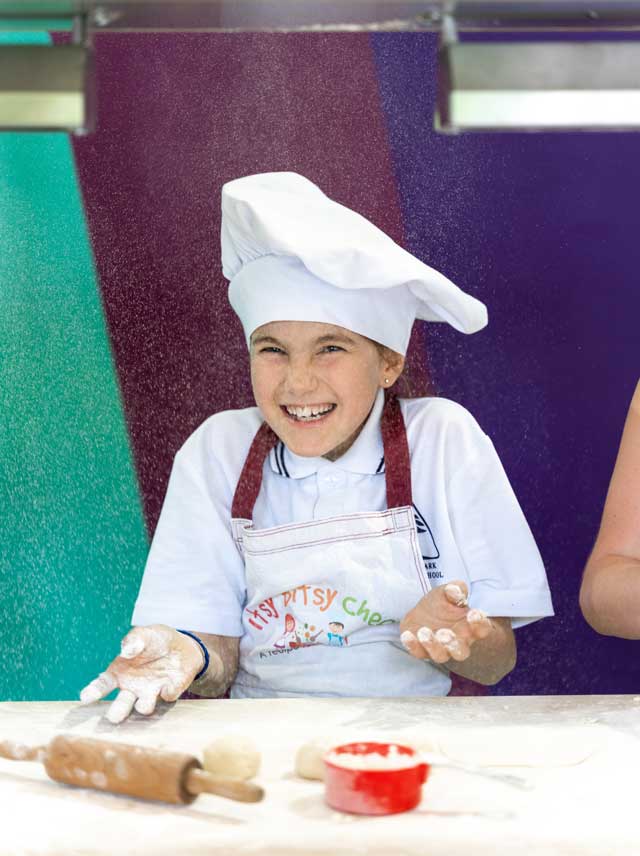 What were your favourite summer holiday activities when you were 11 years old; beach trips? pool parties? Launching your own restaurant with your best mates…?
That much is true for one of Australia's most promising young chefs. Whilst her classmates are busy playing video games and spending their days poolside, 11 year old Talulla Bogusz is cooking up a storm.
Talulla has recruited a team of pint-sized proteges ranging from just nine to 11 years old and together, they are set to become the country's youngest ever restaurant owners.
The Itsy Bitsy Restaurant, named after the young person's cooking school where the team first met and honed their craft, is set to open in early January. The Melbourne restaurant's menu includes traditional Polish dishes such as Nalesniki (a savoury pancake much like Gozleme), Pierogi dumplings and Paczki (pronounced Ponch-ski) doughnuts with plum jam.
The Polish-inspired menu hails back to the heritage of Talulla's great grandmother (Babcia). She was a Polish Catholic who was forced to cook for the Nazi's during WW2. Her culinary skills were so valued that they ended up saving her and her son's life.
Talulla and her team have pledged to donate 100% of the funds to UNICEF: The Syria Crisis Appeal, to help raise awareness of the urgent needs of innocent children affected by war.
Talulla Bogusz said: "My dad has always described Babcia as a strong lady and he has many fond memories of her polish cooking. I wanted to continue this family tradition, and when I shared some of Babcia's secret recipes with my friends at The Itsy Bitsy Chef, we thought it would be really fun to open our own restaurant. I hope everyone orders our food and likes it as much as we enjoy making it"
The delivery-only restaurant will be run from a Deliveroo Editions site in Collingwood. Orders can be made by finding the Itsy Bitsy Restaurant on the Deliveroo website and app from 6pm on the 7th January 2020.
Joe Satari at Deliveroo said: "Talulla and her team are incredibly impressive. Deliveroo couldn't be happier to help support this fantastic endeavour. Their determination to showcase their cooking talents is remarkable and we can't wait to try Babcia's secret recipes."
---
About Deliveroo Deliveroo is an award-winning delivery service founded in 2013 by William Shu and Greg Orlowski. Deliveroo works with over 80,000 best-loved restaurants and takeaways, as well as 60,000 riders to provide the best food delivery experience in the world. Deliveroo is headquartered in London, with 2,500 employees in offices around the globe. Deliveroo operates in over 500 towns and cities across 13 markets, including Australia, Belgium, France, Hong Kong, Italy, Ireland, Netherlands, Singapore, Spain, Taiwan, United Arab Emirates, Kuwait and the United Kingdom. Deliveroo operates in 13 cities across Australia; Sydney, Melbourne, Brisbane, Gold Coast, Perth, Adelaide, Canberra, Geelong, Wollongong, Penrith, Newcastle, Cairns and Hobart.