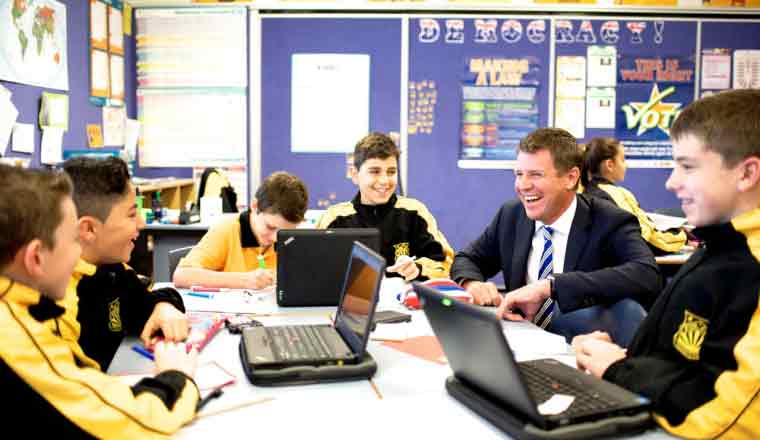 About 40 new classrooms will be built and almost 900 additional students accommodated at Auburn North Public School, Lidcombe Public School and Marie Bashir Public School as part of the NSW Government's $1 billion boost over four years for the construction of new classrooms and schools infrastructure.

NSW Premier Mike Baird announced the new projects today at Auburn North Public School, with the capital works to support a once-in-a-generation demand for student places in public schools.
"Auburn, Lidcombe and Strathfield are growing rapidly and student enrolments continue to rise. We are making a massive investment in local schools to provide the educational infrastructure to support families living in Western Sydney," Mr Baird said.
"These three new projects bring the total announced expenditure so far this financial year to almost $80 million for Western Sydney.
"Other projects announced in the 2016-17 Budget include a new school in North Kellyville, as well as new permanent classrooms at Rosehill Public School and Oran Park Public School.
"More than 100 new permanent classrooms, providing over 2,600 student places, will be delivered by the upgrades at Auburn North Public School, Oran Park Public School, Rosehill Public School, Lidcombe Public School, Marie Bashir Public School and the new primary school at North Kellyville.
"As Western and South Western Sydney continue to grow, so too will our investment in new schools and classrooms. Watch this space – there will be more announcements for Western Sydney parents and families over the coming years."
Minister for Education Adrian Piccoli said the School Infrastructure Strategy is designed to identify high growth areas across NSW and ensure capacity exists to meet the demand for enrolments.
"The West Central Sydney district, which includes Auburn North, Lidcombe and Strathfield, will receive over $130 million in additional funding and provide more than 160 new classrooms," added Mr Piccoli.
"The projects will also include associated student and staff facilities to complement the new classrooms."