Increase in online scams target Aussies searching for content around big name celebrities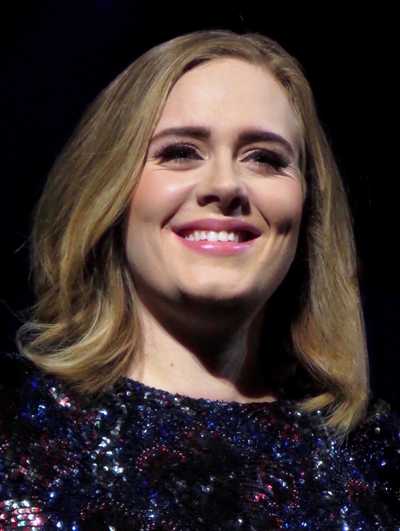 English singer-songwriter Adele, best known for smashing the charts since 2008 with hit songs including 'Rolling in the Deep' and 'Someone Like You' – tops McAfee's Australian list of most dangerous celebrities to search for online. For the fourteenth year, McAfee researched which famous names generate the riskiest search results that could potentially trigger consumers to unknowingly install malware on their devices.
Adele is popular amongst fans not only for her award-winning musical talents, but also for her funny and relatable personality, as seen on her talk show appearances (such as her viral 'Carpool Karaoke' segment) and concert footage. Most recently, her fitness journey has received mass media attention, with many trying to get to the bottom of her 'weight-loss' secrets. With Aussies taking to the web to follow her transformation and consume all the 'Adele' content they can get their hands on while she has been lying low for four years since her latest release, McAfee's research shows that the singer is in fact the most dangerous celebrity to search for in 2020, as her name generates the most harmful links online.
Trailing Adele as the second most dangerous celebrity is actress and star of the 2020 hit show 'Love Life' Anna Kendrick, followed by rapper Drake (no. 3), model and actress Cara Delevingne (no. 4), US TikTok star Charli D'Amelio (no. 5) and singer-songwriter Alicia Keys (no. 6). Rounding out the top ten are 'Sk8r Boi' singer Avril Lavigne (No. 7), New Zealand rising music star, Benee (no. 8), songstress Camila Cabello (no. 9), and global superstar, singer and actress Beyonce (no. 10).
In 2020, as lockdowns took effect due to COVID-19, Aussies have been particularly active online, increasing their activity across many devices and scouring the internet for a wide variety of entertainment. From free movies and TV shows to the latest celebrity news, consumers turned to digital celebrity content to entertain themselves, especially during the global pandemic. Hackers honed in on this trend, following consumer behaviour to develop their scam strategies.
"Consumers' fascination with pop culture could be putting them at risk as cybercriminals hone in on increased searches for celebrity news and new release entertainment." says Alex Merton-McCann, Cyber Safety Ambassador ANZ at McAfee. "Deceptive practices such as fake websites promising free content can lead unsuspecting consumers to malicious sites purpose-built to steal valuable, personal information or take over devices. Now more than ever, it is crucial consumers stay vigilant and always think before they click to protect their digital lives."
The top 10 celebrities from this year's Australian study are: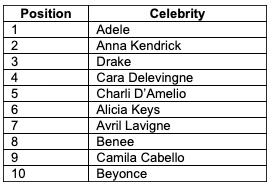 Aussie are just as nosey as cybercriminals in seeking celeb gossip
Aussies' affinity for celebrity news reached new heights this year as they tried to escape the monotony of life in lockdown by staying up to date with the latest gossip from their favourite public figures. Adele's weight-loss journey (no.1), Drake's first photos of 'secret son' Adonis (no. 4), and Cara Delevingne's breakup with US actress Ashley Benson (no. 5), all had Aussie fans flocking to the internet to search for the latest developments on celebrity news.
Even 2017's most dangerous celebrity Avril Lavigne, most known for early 2000's hits 'Sk8r Boi' and 'Complicated', recently gained spotlight following conspiracy theories claiming she has been replaced by an imposter playing a role -pushing her up the ladder, back into this year's top 10.
New releases still a hot ticket
Burning through catalogues of available movies and TV shows amid advice to stay at home, Aussies have been quick to flock to new release titles to stay entertained.
Rising to fame following her roles in Twilight and musical comedy Pitch Perfect, Anna Kendrick (no. 2) starred in HBO Max series Love Life which was released during the peak of COVID-19 in Australia, as well as the 2020 children's film Trolls World Tour. R&B and pop megastar Beyonce (no. 10) starred in the 2019 remake of Disney cult classic The Lion King, and released a visual album Black Is King in 2020.
Music to hackers' ears
While live concerts and festivals came to a halt earlier this year, consumers are still seeking music – both old and new – to help them navigate unprecedented times. Musicians make up 50% of the top 10 most dangerous celebrities – hailing from all genres, backgrounds and generations.
Canadian rapper Drake (No. 2) sparked fan interest by dropping his Dark Lanes Demo Tapes album including hit songs Chicago Freestyle and Tootsie Slide that went massively viral on TikTok. New Zealand singer Benee also came out of the woodworks with viral sensations Supalonely and Glitter topping charts and reaching global popularity on TikTok.
Known for her enormously successful R&B/Soul music in the early 2000s, Alicia Keys (no. 6) released a string of new singles in 2020. Camila Cabello's 'Senorita' duet with Canadian singer and now boyfriend Shawn Mendes, was Spotify's most streamed song of 2019. The couple continued to attract copious attention as fans followed stories reporting on the lovebirds self-isolating together in Miami earlier this year.
Tips to help consumers Stay Safe Online:
Consumers can do their part by being vigilant in practising safe online behaviour with the following tips:
Be careful what you click. Users looking for new release music, TV shows and movies, as well as updates on their favourite celebrities, should be cautious and only click on links to reliable sources. The safest thing to do is to wait for official releases, leverage legitimate streaming platforms, and only visit reputable news sites, instead of clicking through to third-party websites that could contain malware.
Refrain from illegal streaming and downloading suspicious files. Whether consumers prefer throwing it back to Alicia Keys' greatest hits or rushing to stream Drake's new album – it is important to only use legitimate music streaming platforms, even if they come at a cost. Many illegal downloads are riddled with malware or adware disguised as mp3 files.
Protect your online safety with a cybersecurity solution. Safeguard yourself from cybercriminals with a comprehensive security solution like McAfee Total Protection. This can help protect you from malware, phishing attacks, and other threats.
Use parental control software. Kids are fans of celebrities too, so ensure that limits are set for your child on their devices and use parental control software. This will help minimise exposure to potentially malicious or inappropriate websites when they search for the latest news on TikTok star, Charli D'Amelio or go to download the latest Benee track making waves on the app.