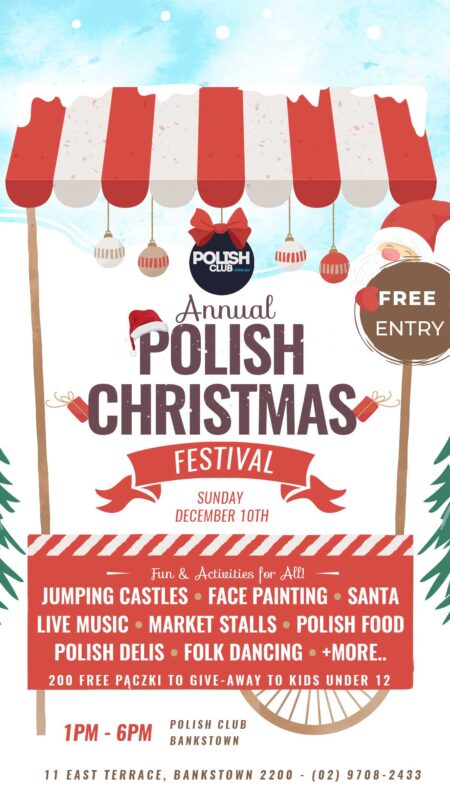 Get ready for the ULTIMATE Polish Christmas Festival, coming at you live from Bankstown Polish Club! Brace yourself for an EPIC fun filled day! With an incredible turnout of over 500 visitors last year, we're thrilled to invite our vibrant Polish and European community back for another unforgettable experience.
Join us on Sunday, the 10th of December, from 1PM to 6PM, for a day jam-packed with activities, and mind-blowing performances. But hold up, it gets even better! We're giving away a whopping 200 FREE Polish Pączki to children under 12 – don't miss out on this sweet deal!
And the best part? ENTRY IS FREE! Prepare yourself for day filled with jumping castles (adult friendly castles too), face painting, LIVE music, electrifying folk dancing, and sizzling HOT Polish foods that will set your taste buds on fire! Santa himself will be there to spread some Christmas cheer, while the air will be filled with the enchanting sound of carols on the main stage.
Indulge your sweet tooth with a tantalising array of cakes and sweets, explore our authentic Polish Delis, and shop till you drop at our vibrant market stalls.
Due to the mind-blowing turnout we expect, the carpark will be closed, but fret not. There's tons of parking available in the surrounding streets or nearby public carparks. Better yet, why not make your journey hassle-free by taking the train? Our club is a mere 5 minutes walk from the station.
If you're an adventurous soul and would like to have a market stall of your own, don't hesitate – shoot us an email at
hello@polishclub.com.au
. This is an opportunity you don't want to miss!