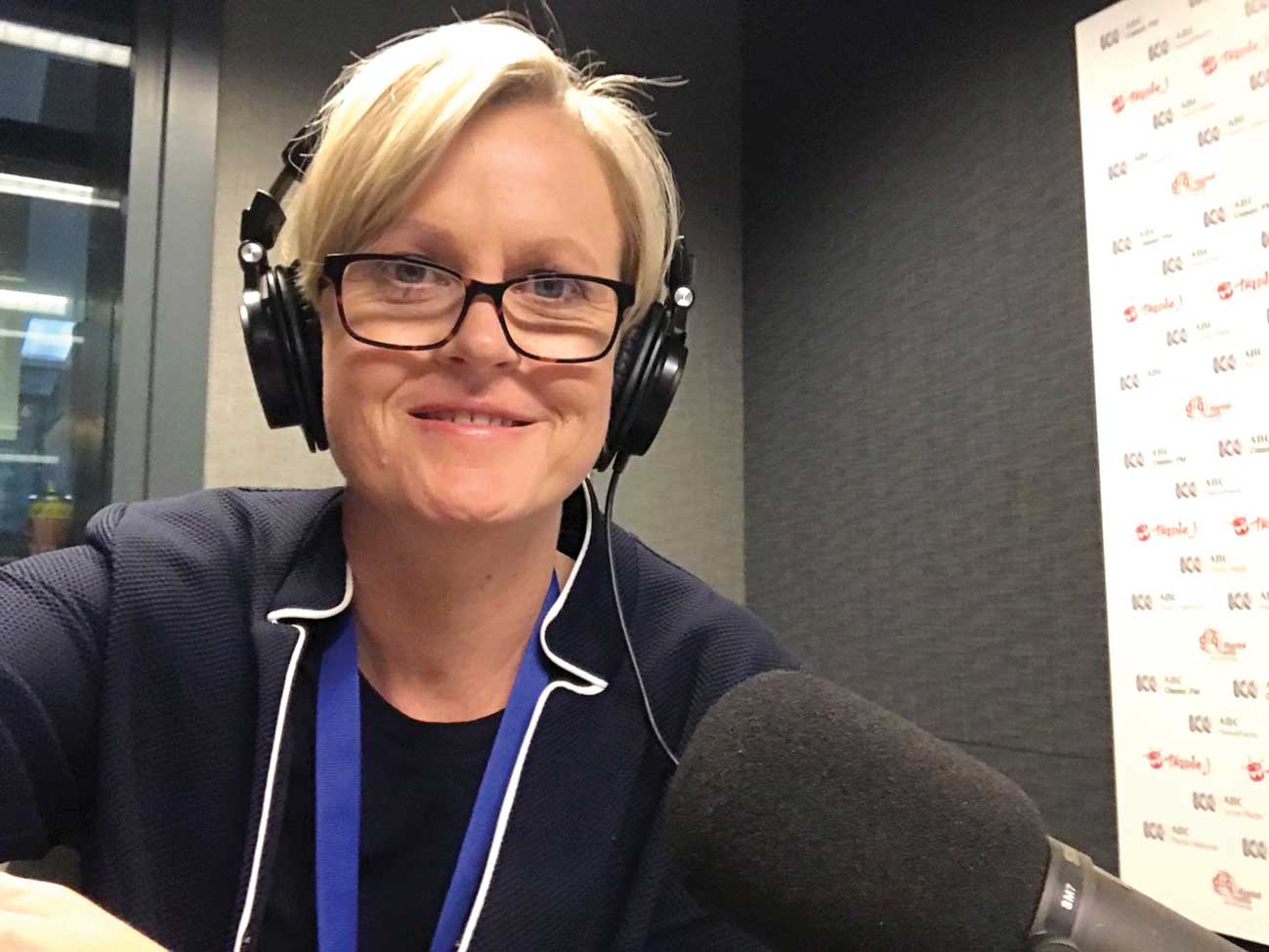 Journalist Sally Sara has carved a name for herself as one of Australia's most respected and awarded broadcasters, covering some of the biggest stories in the toughest places around the world.
Sally has reported from war torn Afghanistan and AIDS-ravaged Africa. She's tracked down paedophiles in Mumbai and stalked the corridors of power as a member of the Canberra Press Gallery.
Last week Sally was named as the new host of the flagship national ABC radio program, The World Today.
But the radio station that is closest to her heart is the one where she learnt her craft – Outback Radio 2 WEB in Bourke.
It was 2WEB, under the guidance of then Station Manager Ian Cole, that first employed a very green and nervous Sally Sara to host the Bush Telegraph program.
Sally drove from her hometown near Adelaide to Bourke and within 72 hours was on air. It was a welcome she said she'll never forget and set her on a path to an illustrious career and an enduring love of radio.
"I bought a ute off my dad and drove to Bourke, pulled up outside the station to say g'day and everyone there was so friendly and welcoming," Sally said.
"I was terrified by the prospect of going on air. I had only been a producer doing bits and pieces for the ABC and had never been behind a microphone, but you have to kick off somewhere and step up and 2WEB gave me the chance.
"I hosted the Bush Telegraph for a few months before news director Dave Kesby moved to Sydney and I took the news job and I loved that.
"Bourke was such a friendly town – the phone kept ringing with teachers and ambos who heard someone new was in town and they invited me to play basketball and European handball or to go out and do this and that.
"I had a ball," she said.
It was through 2WEB that Sally learnt the importance of storytelling, particularly the issues affecting ordinary people.
"I have never struck a radio station so close to the community as 2WEB," she said. "People feel a sense of belonging to it and with news we would get stories ahead of the ABC in Dubbo because we were close to the ground and really got to know people in the community.
"I loved the volunteering aspect of the station, with the kids coming in and the other volunteers who helped out. Everyone did a fantastic job and there was a real connection to the audience."
Sally quickly proved her worth, and within a year at 2WEB she had won the prestigious Dalgety rural journalism award for the station.
"We may have been from a small community station, but we beat the ABC and everyone else, and we proved that we could still turn out a good quality product," she said.
"I felt really proud of taking on a bigger network and winning at a state and national level."
Opportunity came knocking and Sally reluctantly decided to leave Bourke to take up the rural reporter role for the ABC in Renmark in her home state.
"I spent 18 months on the River Murray in that role, but I really missed Bourke," she said. "It was very hard to leave but I knew I had to take the opportunity.
"I had gone for 22 jobs in a row and missed out and was in the final eight for a cadetship with the ABC before I joined 2WEB.
"I started out in 1992 when the country was in recession, so opportunities were just not there.
"It was really difficult to get a chance but that teaches you to hang in there and keep trying and having a go so I couldn't pass up that chance.
"After Renmark I went to Alice Springs for three months and then joined ABC radio current affairs in Adelaide, so my work changed from rural reporting to state and national stuff.
"It was hard – the job came up sooner than I was ready, and I was terribly out of my depth. I went from being not a bad rural reporter to the worst current affairs journalist in the country.
"I really struggled and couldn't quite get it right, so there were lots of tears and frustration trying to get up to the next level.
"I thought I would put my tail between my legs and go back to the Country Hour, but I just had to hang in there and things started to turn around."
Sally eventually trod the well-worn path to the Canberra Press Gallery and survived the rite of passage interviewing politicians and handling the daily stress of the national capital.
"Politics plays an important part in any journalist's career," Sally said. "But I don't understand people who chase power.
"You need to understand the policy and politics that go on in the background to understand what is going on in a wider sense, but it's not my natural game."
When the African correspondent's job opened, Sally was the successful candidate and spent the next five years in South Africa shortly after Nelson Mandela stepped down as president. It was a heady time to be reporting on changes in South African society and Sally said she still has a passion for the country.
"The HIV-Aids epidemic was absolutely raging at that time but I loved the job and got to travel all over Africa," Sally said.
Her postings to the world's hot spots over the next few years included Nairobi in Kenya, and Mumbai in India.
"In my third week they had the Mumbai terrorist attack on hotels, so it was quite an introduction," she said.
"I spent the first seven months investigating an Australian paedophile in India – we had all the evidence, documentation and intelligence but nothing happened.
"It was really hard to see all the work we had done, and nothing really changed.
"While I was in India, I put in a submission to set up a temporary office in Kabul in Afghanistan and spent two years there.
"It was an interesting experience – just a bed where I slept and a chair and a desk in the same room where I worked.
"It was interesting to see what the Australian troops were doing there and talking to the Afghan people – it was a year I'll never forget," she said.
It was while Sally was working in Kenya that her father became ill and she made the decision to put the career on hold and return home to help her mother care for him.
"Dad had Alzheimer's and was getting worse and worse," she said. "I am from a close family and it was horrible to be away, so I returned to Adelaide and helped Mum look after Dad until he passed away later that year."
Eventually Sally returned to her career, working on Foreign Correspondent, but eventually her love of radio saw her looking for a role closer to her roots.
The hosting role for The World Today was up for grabs after presenter Eleanor Hall vacated the seat – and Sally got it.
"I am really looking forward to doing daily things again," she said. "Foreign Correspondent is shot over many weeks so it's great to be on a daily turnaround and not have travel hanging over me if family things come up, which is a nice change.
"Literally of all the jobs in the ABC, The World Today is the one I want, and given the current climate I think I am very fortunate.
"There are redundancies happening so getting this at this time – I don't take it for granted. I want to make the most of it and throw everything at it."
Sally has some well-earned advice for other young journalists trying to make their mark.
"It can be hard to get in at the beginning but if you work hard and keep trying, you'll get there," she said.
"I've also noticed a large number of overseas correspondents are either country kids or they've worked on rural and regional journalism, so in some ways missing out on those cadetships is the best thing that can happen.
"I think country kids are naturally curious see what's in the next place so there are a lot of country kids in the mix there.
"So, if you want to do it, just hang in there and keep trying," Sally said.
Source: The Western Herald