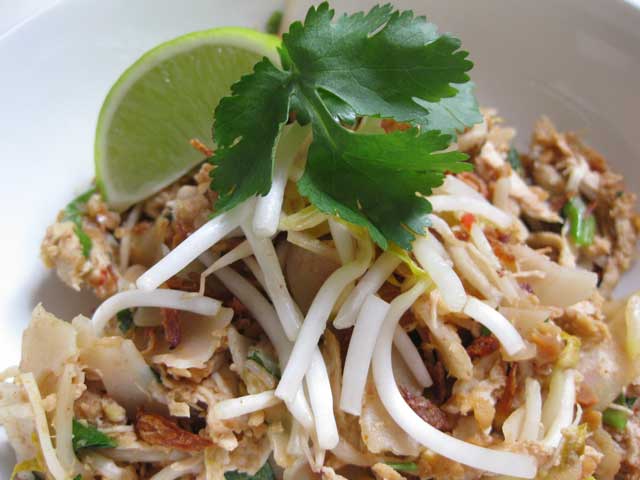 Ingredients
3 Tb tamarind puree*
2 Tb grated palm sugar
1/3 cup sweet chilli sauce (the one with the big roast chicken on the label! Has anyone ever used it on a big roast chicken?)
1/3 cup fish sauce
375 g packet of XL (the wide ones) rice stick noodles
300 g uncooked prawns
2 Mt Barker chicken breasts
2 cloves garlic, crushed
2 Tb dried shrimp paste
1 Tb grated fresh ginger
2 small red Thai chillies, seeded (if you're a big wimp) and coarsely chopped
1 Tb peanut oil
3 eggs, beaten lightly
2 cups bean sprouts
4 green onions, sliced thingly
1/3 cup coarsely chopped fresh coriander
1/4 cup coarsely chopped roasted unsalted peanuts
1 lime, quartered
* If you can't find tamarind puree (which has a smooth consistency) and can only find tamarind pulp (quite chunky consistency) you'll need to include an extra step in your method. Soak 40 g tamarind pulp in 1/2 cup boiling water for 30 minutes, giving it a good stir/squish every now and then. After the 30 minutes, strain the mixture over a bowl, pushing through as much of the pulp through the strainer as you can and making sure to scrape the underside of the strainer occasionally to collect all possible pulp. Discard the solids left in the strainer and use the pulp/liquid mixture in the bowl as for the tamarind puree in the recipe.
Method
1. Cook the chicken breasts in a moderate oven until cooked through. Shred apart using forks. Set aside.
2. Mix together the tamarind, palm sugar, sweet chilli sauce and fish sauce. Set aside.
3. Shell and devein prawns (and cut them into more manageable pieces if they're as mutantly gigantic as the ones I currently am lucky enough to have sitting in my freezer. I sliced them right down the middle, like butterflying but cutting all the way through). Set aside.
4. Place noodles in a large heatproof bowl. Cover with boiling water until they soften. Drain noodles and set aside.
5. Blend or process or crush using mortar and pestle the garlic, shrimp paste, ginger and chilli until you have a nice stinky paste.
6. Heat oil in wok and stir-fry spice paste until fragrant. Add prawns, frying for a minute or so. Add egg, stir-fry until the egg just sets. Add noodles, tamarind mixture, chicken, sprouts and half of the onion; stir-fry, tossing gently until combined and everything is heated through.
7. Remove from heat; toss remaining green onion, coriander and nuts through pad thai.
8. Serve with lime wedges (and perhaps some extra sprouts, coriander and crispy fried onion pieces for good measure).
This recipe actually says it serves four people, but last night's effort managed to create six decent sized meals (especially when followed up with Bakewell Tartlettes and ice cream! Strange combination of dishes I know, but it went down a treat.)