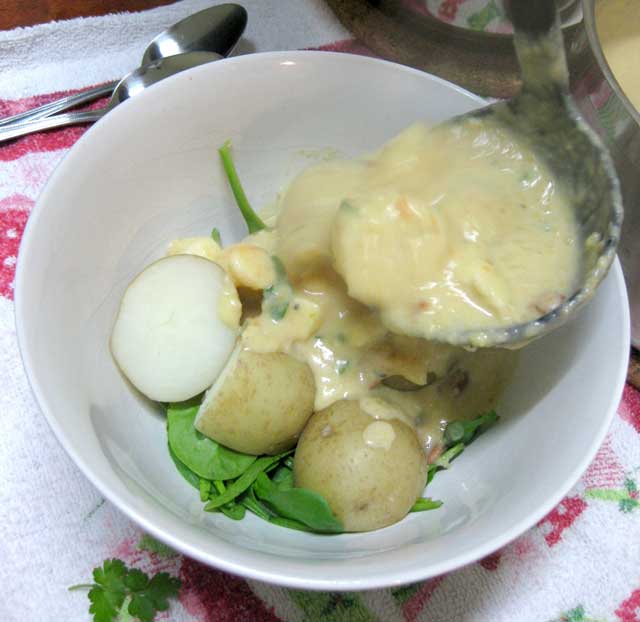 SERVES:
4 as a main dish. Refrigerate any leftovers and reheat to eat within a couple of days.
NUTRITIONAL INFORMATION (PER SERVE):
530 calories, 9 g net carbs, 33 g fat, 45 g protein. If you want even lower carbs, replace the scallops with more fish and reduce the amount of onion.
Ingredients
3 rashers middle bacon, chopped
1 medium onion, chopped
2 celery stalks, chopped
1 small carrot, chopped
1-2 garlic cloves, crushed
1-2 bay leaves
freshly ground pepper (few grinds of the mill)
1-2 tsp ground smoked paprika
3 cups chicken stock
1-1.5 cups water
100 mL sour cream
200 mL whipping cream (heavy cream in the US)
400 g cauliflower, chopped
2 sprigs fresh thyme leaves
2Tb fresh parsley, chopped
1/4 tsp xanthan gum (optional thickener, generally found in the health food section of the supermarket)
4 serves seafood (I used ~450g firm white fish, and ~250g scallops)
Method
I don't have a large enough pot with a good base for frying, so I do the first two steps in a frying pan then switch over to a pot, but please use the same pot for both if you are better appliance endowed than I.
Fry off the bacon over a low-medium heat until well cooked and most of the fat has come out. Remove bacon, reserving the fat in the pan. I know it's hard, but don't eat the bacon yet.
Turn up heat to medium and add the chopped onion to the pan, frying until slightly softened. Add carrot and celery and fry until all softened and there is a bit of colour on it all. Add the chopped garlic to fry off for the last minute.
Add the chicken stock, water, paprika, pepper, bay leaves, sour cream and cream. Mix well, reduce heat and leave to simmer for around 20 minutes (can leave longer if you like, but keep an eye on the liquid levels – you may want to add more liquid, and cover the pot).
While the soup is simmering, steam your cauliflower until soft then add it to the soup.
Remove soup from the heat, take out the bay leaves and add the thyme. Puree the soup using a stick blender or equivalent.
Add the parsley and bacon to the soup (reserving some for a garnish if you like) and return it to the heat, and add xanthan gum (if using) by lightly sprinkling over the surface and mixing through very well.
Add your seafood, according to length of cooking (eg. I put my big scallops in first, then my chopped fish a minute or two later, then turned off the heat after another 4-5 minutes if that). Check your seafood for opacity to see when it is done.
Garnish with any reserved bacon and parsley, and serve.
NOTE: I also boil up some potatoes to add to Fletch's soup, and normally serve mine sitting on a little bed of spinach and/or steam broccoli because everything is better with little trees.