Pope Francis offered Mass for the departed on All Soul's Day in the Prima Porta Cemetery, Rome. Many Polish Soldiers are buried there. But, it was a very special day for Aleksander Zielinski, a current member of SPK Ashfield and former Secretary of SPK. His son, Brother Cassimiro OSPPE came face to face with the Pope. Brother Cassimiro, Alek's son, studied at Viarny College, NSW and later at the Pauline Fathers Berrima. He currently studies in Rome at he PONTIFICAL UNIVERSITY OF SAINT THOMAS AQUINAS-ANGELICUM. Pope John Paul II, being our most famous Alumnus of the University.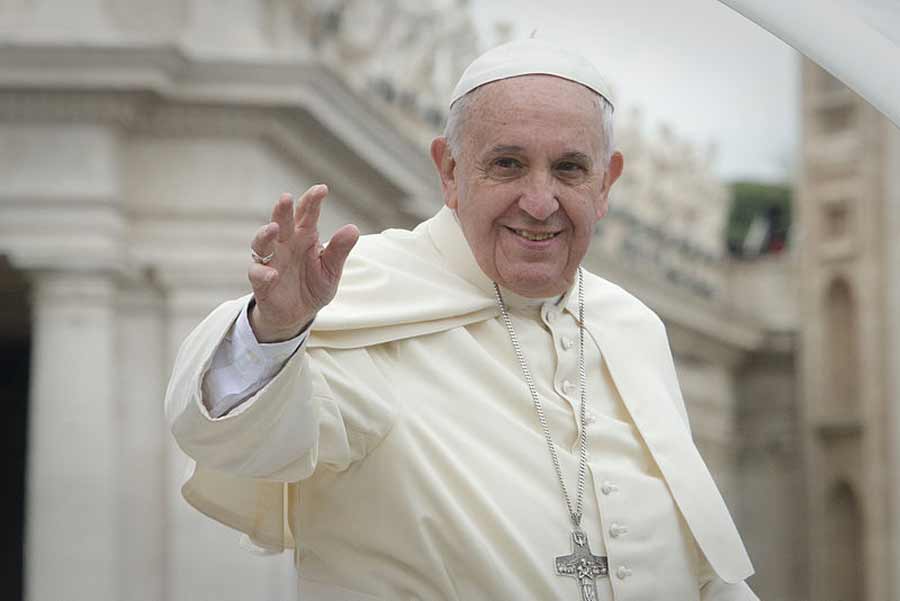 And here we see Brother Cassimiro, shaking hands with the Pope at he Mass of the Faithful Departed on All Soul's Day. And a very proud father, taking in all the internat he could on the day. As the picture was printed in Vatican's official newspaper the "L'Osservatore, Romano".
The Flamino Cemetery in Prima Porta, where Pope Francis offered the All Soul's Mass is the largest Cemetery in Rome. Pope Francis stressed the brief homily of a graveyard, being both a place of sadness for the suffering they have left us, and also a place of hope for the future. This is why we bring flowers to the graves of our loved ones; not only a tribute to their memory, but a sign of hope in the certainty of the resurrection.
Ojciec Kazimierz, paulin – syn polskiego kombatanta mieszkającego w Australii spotkał się z Papieżem Franciszkiem podczas Mszy św. w Rzymie.
"Obok smutku we wspomnieniu o bliskich zmarłych jest «niezawodna kotwica: nadzieja na zmartwychwstanie»", powiedział Papież w homilii wygłoszonej podczas Mszy św. odprawionej na cmentarzu Flaminio w Rzymie z okazji Dnia Zadusznego. Podczas nabożeństwa Papież Franciszek przytoczył też słowa Ewangelii wg. św. Jana (6.40) – "… a ja go wskrzeszę w dniu ostatecznym".
Przed nabożeństwem Franciszek złożył bukiet róż na jednym z grobów. Taki sam gest powtórzył po zakończeniu Mszy św.
From the current Secretary of SPK to a former Secretary of SPK, Ashfield:
Thank you Alekander Zielinski for sharing your story.
SZCZĘŚĆ BOŻE
Z poważaniem, w imieniu Zarządu
Julie Ankiewicz
Sekretarz SPK Koła Nr 1
Delegat Fundacji Polskiej NSW
Coordinator Anzac Centenary