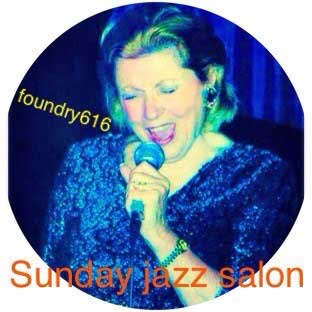 Join us at Foundry616 for the first of our wonderful new Sunday Jazz Salons.
For our inaugural winter salon, we welcome Sydney jazz singer Sandie White. Sandie has worked around the globe with enough top names to fill a "Who's Who In Jazz" compendium.
In the great tradition of vocalists such as Ella Fitzgerald and Sarah Vaughan, White performs with great aplomb many of the best from the jazz standards songbook with a delightful interpretive style, often throwing in a chorus of improvised scat.
Sandie's career spans decades and she has worked internationally as well as within Australia, including stints at Ronnie Scotts in London and living and performing in Spain. She has played alongside such jazz giants of the 20th century as Lionel Hampton, Zoot Sims and Oscar Pettiford
She is fortunate to work constantly with such luminaries as Judy Bailey, Craig Scott, Kevin Hunt, George Golla, Dan Barnett, Eric Ajaye, Ray Alldridge, Steve Russell, Brendon Clarke, Col Loughnan, Glenn Henrich and many others.
Following her stunning recording Angel Eyes, with New York born Pianist, Vince Genova (which proved to be a musical Tour de Force), several more discs have been recorded – "Be Diggin' Me Clear Now", "Taking Risks", "A Bluer Shade of White", and her latest release is "Wild October Gladness".
There is no substitute for experience and Sandie's is evident in her stage presence, vocal range, tonal quality and great jazz feel for expression and improvisation.
A charismatic artist to spend a Sunday afternoon with.
Sandie White – Voice
Hugh Barrett – Piano
Michael Walder – Bass
"The concert was a small treasure: a talented, vocal-led trio, revisiting some of the best songs of the twentieth century".
John McBeath

Foundry 616
Sun, 05 Jul 2015, 1:00 PM – 3:00 PM
616-620 Harris Street
Ultimo NSW 2007
Australia
http://www.foundry616.com.au