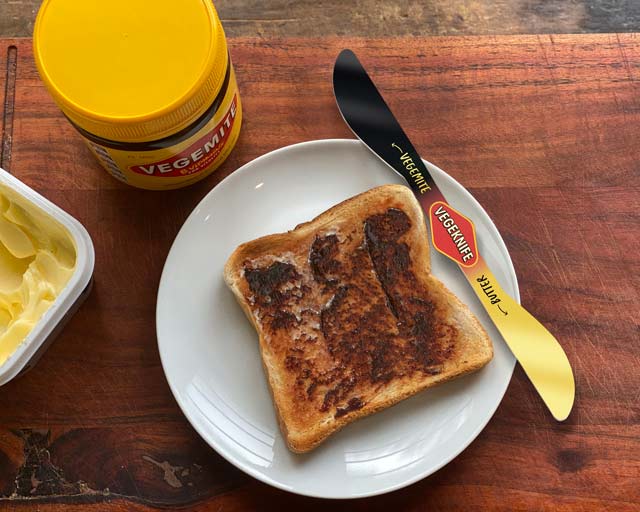 VEGEMITE INTRODUCES LIMITED-EDITION "VEGEKNIFE"
New survey results released today by the VEGEMITE team at Bega Cheese Limited has found that 58 per cent of Australians are experiencing cross-contamination when preparing their breakfast. That's right. Butter is making its way into 58 per cent of respondents' VEGEMITE jars. While Aussies may be divided when it comes to who is responsible for butter in the VEGEMITE jar, there is one thing that Australians can agree on – cross-contamination is a bit icky. At VEGEMITE, this is serious stuff.
"Aussies are opening up their jars of VEGEMITE to find that butter has somehow made its way in," said Jacqui Roth,VEGEMITE Marketing Manager. "We can't have that. So, we're introducing a solve – the limited-edition 'VEGEKNIFE'.
The limited-edition VEGEKNIFE is a dual headed cutlery breakthrough, withone end for butter and one end for VEGEMITE – so now, there's no reason to get butter in the VEGEMITE jar."
"We know that Australians take their VEGEMITE toast very seriously, and we hope that the VEGEKNIFE will remove the need for difficult household conversations that are centred around finding out who's responsible for the butter in the VEGEMITE jar. Cross-contamination between spreads in your household will be a thing of the past."

How to secure a VEGEKNIFE
Want to get your hands on a piece of VEGEMITE history? VEGEMITE is giving you the chance to win one of the 200 VEGEKNIVES that are being released.
The metal VEGEKNIFE has been crafted to feature two ends – one specifically for butter, and one for VEGEMITE – to ensure that butter stays out of your VEGEMITE jar.
To enter the competition to win one of the 200 VEGEKNIVES, head to the VEGEMITE Instagram for more information. The competition ends 11:59pm AEDT Sunday 25th October 2020.
About VEGEMITE: There aren't many products or brands that have been embraced in the same style, or with the same amount of love, as the VEGEMITE brand has been. VEGEMITE is in most Australian homes – loved by children, teenagers and adults alike. VEGEMITE will celebrate its 97th birthday milestone this month, as the brand continues to play an important rolein the lives of Australians. VEGEMITE isn't just Australian owned and made in Australia; it tastes like Australia. For more information about VEGEMITE, please visit www.vegemite.com.au/heritage/.