(cake adapted from a simple butter cake recipe, serves 10)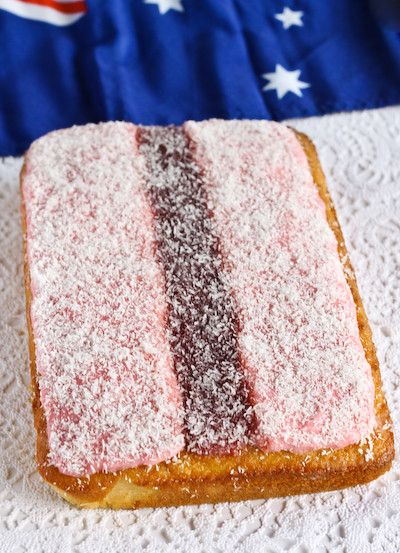 Melted butter, to grease
1 1/2 cups (275g) self-raising flour
1/2 cup (75g) plain flour
1 cup (220g) caster sugar
150g unsalted butter, cubed, at room temperature
2/3 cup (155ml) milk
3 eggs, at room temperature
1 tsp pure vanilla extract
a pinch of salt
For the topping:
2 cups icing sugar, sifted
125g unsalted butter
1 1/2 cups white or pink marshmallows
Pink food colouring
1/2 cup raspberry or strawberry jam, whisked until smooth
1/2 cup dessicated coconut
Preheat oven to 140°C (285°F). Position a rack on the second lowest shelf of the oven. Brush a 17x27cm rectangular slice/brownie tin with the melted butter to lightly grease. Line base and sides with non-stick baking paper.
Place the self-raising flour, plain flour, sugar, butter, milk, eggs and vanilla essence in a large mixing bowl. Use an electric beater to beat on low speed for 30 seconds or until just combined. Increase the speed to high and beat for 1-2 minutes or until the mixture is thick and all the butter is incorporated. Spoon the mixture into the prepared pan and smooth the surface with the back of a spoon. Bake in preheated oven for 40-50 mins or until a skewer inserted into the centre of the cake comes out clean. Remove from oven and set aside for 10 minutes. Turn onto a wire rack for 30 minutes or until completely cool.
To prepare the icing, remove butter from the fridge 30 mins before starting (i.e. while you are waiting for the cake to cool). Place butter and sifted icing sugar in a large mixing bowl and beat until light and fluffy. Add pink food colouring to lightly tint pink. Place marshmallows in a large microwave safe bowl and heat in microwave for about 30 seconds to a minute, enough to cause it to expand and melt the whole way through. (This can also be done in a pan over low heat) Using a spatula, transfer melted marshmallows to the mixing bowl and beat until smooth.
Spread the mixture over the top of the cooled cake in two large strips, leaving a gap in the middle for the jam. Smooth surface of icing with a spatula. Carefully dollop jam along the middle strip of the cake, taking care not to let it overflow down the sides. Sprinkle dessicated coconut over the icing and jam. Can be served immediately or stored in an airtight container for up to 3 days.
Source www.raspberricupcakes.com/2011/01/iced-vovo-cake.html